7 Breakfast Matcha Recipes to Boost Productivity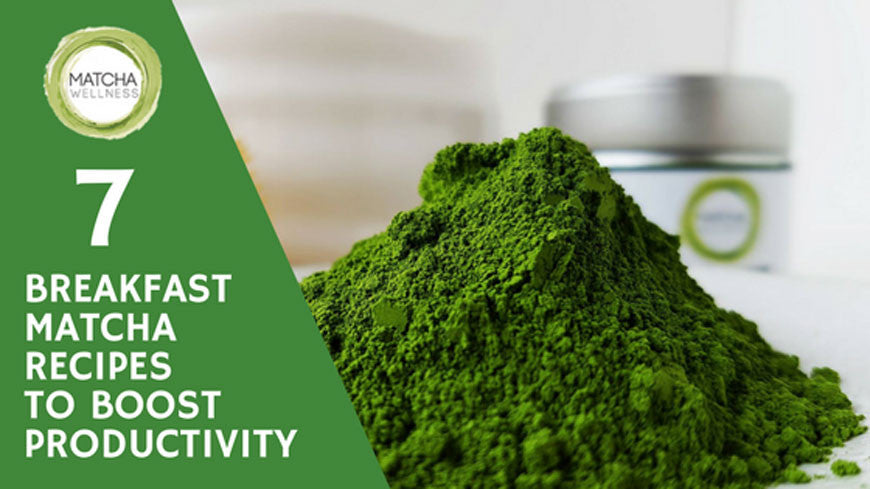 7 Breakfast Matcha Recipes to Boost Productivity
For many people, starting the morning right can be one of the biggest challenges in their day. Getting a good breakfast down the neck can be a hard thing to do at the best of times; so many people decide to turn to other solutions instead. Smoothies, shakes and the like can be good choices for a fast and easy breakfast. However, fast and easy does not give your body the help that they need when you want to go down a more specific route. If energy and wellness mean a big deal, then these recipes are going to be god sent.
To help make every breakfast provide your body the zoom and the help it needs, matcha breakfast-based dishes are a top choice. This guide will give you access to some awesome matcha recipes for breakfast that have enough ingredients to make every day more productive than the last.
It takes a lot of work and planning to get to this point, but with a bit of extra shopping, you can make be sure that every breakfast you have is good for you. No more cereals and high-sugar 'energy bars' – these matcha breakfasts are exactly what health conscious individuals like you opt for.
Matcha & Chia
With a wonderfully delicate texture and a unique taste to each section, this wonderful matcha and chia seed puddings is all you need. They are made even better with the addition of almonds, which helps to add a load of protein and a nice earthy flavor to the whole thing.
A great pick for the mornings when you want a bit of extra 'oomph' with your day. A great source of productivity, the matcha and chia combine make a hugely enjoyable and great tasting solution. With this, you can easily improve your overall health quality moving forward.
Matcha, Granola & Blueberry
A great mixture of powerful solutions that give the body plenty of natural energy, this trio of superfood is just what you need in the morning. It requires a bit of building and mixing to get the granola and the matcha to mix properly, but it's so worth it when you get to taste that rich and aromatic flavor. Simply have it in the morning in the same way that you would if you were going to have your breakfast, and in no time you should be able to enjoy a deep, crunchy and nutritious breakfast.
Matcha Smoothie
With this mix, you are combining vanilla and matcha to make a smoothie that is going to have clicking your feet with joy. Easy to make and a quick solution for getting yourself up for a productive day, this fills you with natural energy and a sustained caffeine boost without the crash. It's also a fine choice for a morning detox and to make sure you can get a lot more out of those early hours.
If you have a busy morning ahead of you, then this shake can be the perfect remedy to defeat having a sluggish morning.
Matcha Yogurt
If you enjoy a yogurt in the morning, this can be the perfect alternative to going for most store-bought flavoured yogurt options. This also adds a fantastic load of health and charm into every morning bowl. This matcha yogurt choice might just be the best option for those who struggle with excessive solids in the morning.
With an added source of protein in the form of yogurt on top of all the nice extras that matcha already introduces to the body. This choice is an easy to work with option for fast breakfasts that promotes productivity.
Matcha Milkshake
Another fine choice for those not big on solids, this matcha milkshake does everything you need for a fun and fascinatingly productive morning experience. All it takes is some milk of your choice, some vanilla ice cream, a bit of salt, and some matcha for that health and energy kick. These are very powerful solutions for making sure that you can get up to scratch on a day that needs you to be at 100% from the go.
It's a delicious drink and one that is going to make sure you get all the help you need in starting the morning with a bang, but not starting the afternoon with a crash.
Dark Chocolate Matcha Bars
The perfect combo for a productivity and alert morning! A fine choice for a morning nibble, these dark chocolate matcha bars would be all that you need for an enjoyable and engaging exercise. This takes a good few ingredients to make, but you can easily find each of the needed ingredients in health stores or online. Best of all, this combination is paleo-friendly and gluten-free.
A great pick if you are looking for an easy to work with recipe for any morning that needs you to be at your high-intensity best.
Matcha Pancakes
The one you've all been waiting for no doubt; matcha pancakes is the kingpin of mornings with matcha. Made with a comical green coloring to them, this allows you to make sure that you are using pancakes that are going to be actually good for you. They provide you with an easy way to get some antioxidants into the body in a breakfast dish you are familiar with and truly enjoy eating.
For this reason, many will find this recipe a great enjoyment in starting their morning with. While you don't need to use all the ingredients suggested if you are trying to cut back on sugar and high-fat foods, the matcha is going to make the biggest difference to making these pancakes become an enjoyable treat as well as a nutritious, energizing morning breakfast.
So, with all of these morning recipes in mind, we hope you find it much easier to start your morning with a healthier treat. A good matcha breakfast can be all you need to start enjoying your days and achieving much more. It allows you to give your body a nice boost of antioxidants and other nutritious benefits, PLUS make your days more productive.
All it takes is a few bites of the right meal in the morning and a spoon or 2 of matcha. With this, you'll find productivity much easier objective to accomplish!