7 Detoxing Matcha Recipes to Restore Gut Health & Lose Weight Naturally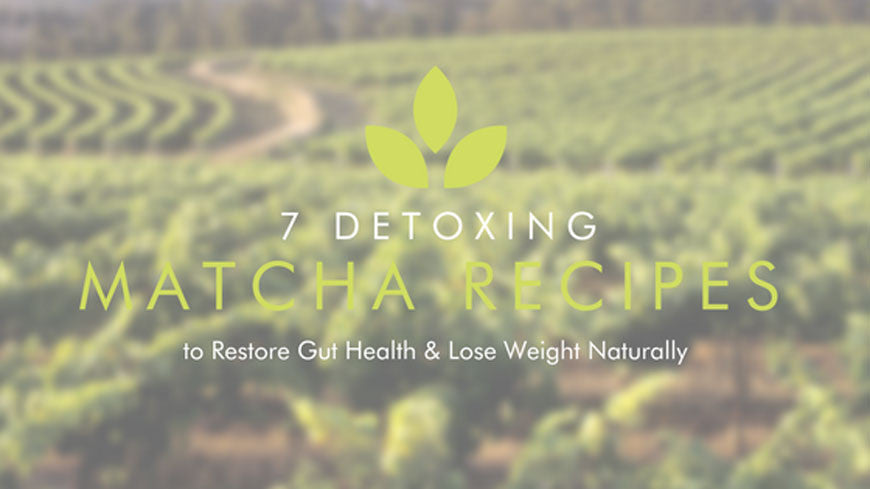 In life, one of the most important aspects of your day-to-day existence is your health and wellness. Managing your body and providing all the necessary nutrients needed might take a little bit of effort from your end, but at the end of the day, it's all going to be worth it.
One food in particular that would benefit your body like no other is matcha. However, finding the right matcha recipe that do what you need takes more than its fair share of time so we've made it easy for you!
Matcha has become intensely popular for various reasons, not just because of its fine taste. It's a drink that many people can enjoy, and it can make a fine choice for an added ingredient to detox as well. Lots of people can struggle with a typical detox, so it can be nice to have an ingredient on hand that, without much effort, can help you manage a better health and quality of life.
From natural weight loss to managing gut health in a more active and practical manner, a detoxing matcha recipe is all you need to make cleansing your internal easy and practical. To help you make sure that you can move in the right direction, here are some excellent detox recipes with matcha that you can use everyday.
Matcha & Pineapple
A fine choice for a fun and engaging beverage, this matcha pineapple smoothie allows you to get improved gut health and natural weight loss as well as a wonderfully enjoyable drink. All you need is some honey, a banana, some pineapple chunks, some 100% matcha powder and some or pure coconut water. Blend it all together and enjoy the beautiful taste it creates.
A great choice when you want a satisfying drink that does a lot for your gut health, loading it with positive vitamins and antioxidants.
The Tummy Tonic
The perfect pick for making sure you can enjoy a deep and engaging gut cleansing solution; this tummy tonic is a must-have product for improving gut health with minimum effort.
This recipe calls for some super ingredients alongside matcha. The combination of ginger, mint, and matcha will improve digestive quality as well as reduce gut-related problems such as IBS flare-ups and indigestion. Matcha tea also adds a groovy look and taste to the drink while pumping it full of antioxidants we can use to improve quality of life.

Matcha & Cucumber Lemonade
A great pick for an enjoyable drink that is going to improve your digestive quality as much as your weight loss potential, is this matcha & cucumber lemonade.
Given this can load your body with up to 20x the nutrients of blueberries and other superfoods, it makes a fine – and easy to make – choice for improving overall health as much as gut health.
It is super easy to make and with just a few minutes work to get it all prepared and ready to enjoy. This also gives your body fiber, protein, sodium, and healthy fats among other nutrients to improve quality of life dramatically.
The Green Smoothie
One to take just about every day, the green smoothie is a fine recipe to take to massively improve health and digestive system. With major ingredients including the likes of celery rib, banana, pineapple, spinach, and another superfood, chia seeds, this provides our bodies with positive gut-saving solutions.
It's easy to make and allows for natural weight loss as the ingredients within it work their magic. It's the perfect choice for rapidly improving your inner health using safe, natural ingredients all in one shake.
Matcha Hot Apple Cider Latte
While it might not sound too enjoyable, when you take a sip of a matcha hot apple cider latte, you will be sure to disagree. This is the perfect choice for when you need a well-worked and enjoyable smoothie that does everything you require to optimize your gut health.
It's loaded with ingredients such as flaxseed milk, matcha, and apple cider to help add a nice touch of strength to the powerful antioxidants loaded in the powdered green tea. With the likes of cinnamon in there, too, this can be a powerful immune aid as well as a helpful solution for improving natural weight loss with speed thanks to an improved metabolic rate.
Matcha Green Juice
This matcha green juice offers a reliable option for improving your overall wellness. It incorporates ginger, cucumber, lemon and aloe vera juice for a dynamic and engaging health kick. This is the perfect choice when you are looking for a form of matcha that is easy to prepare and loaded with gut cleansing ingredients.
Also, the added spinach and lemon can help improve the chances of your body naturally offloading some of that excess weight you are carrying. It's a simple choice for making your body more resistant to the rigors of average living and dietary choices.
Matcha Coconut Smoothie
Matcha is known to be the ultimate detoxifier due to its high levels of antioxidants. Basically, you could add anything to this super food and it would still be a detox beverage at the end.
A great pick for adding a touch of quality to your weight loss regimen and colon cleanse makes it easy to enjoy this drink while cleansing your gut. Add in some coconut water to add that deep and enriching flavor without adding anything that is going to make it hard for you to lose weight.
This is easy to make and with an added touch of baby spinach, frozen banana, and bee pollen, you'll surely get other health benefits that can help improve gut health. Matcha, though, is the star of the show here!
While it might take a little bit of planning, each recipe will provide a unique combination of flavors and enhance your inner wellness and your overall quality of life. Now that you know what kind of recipes to try out, how will you go about giving your body the kind of detox kick it deserves? Which of these recipes will you try first? Try them all for at least 7 days to supercharge your gut health and weight loss!