7 Pre-Workout Matcha Recipes to Boost Endurance & Accelerate Weight Loss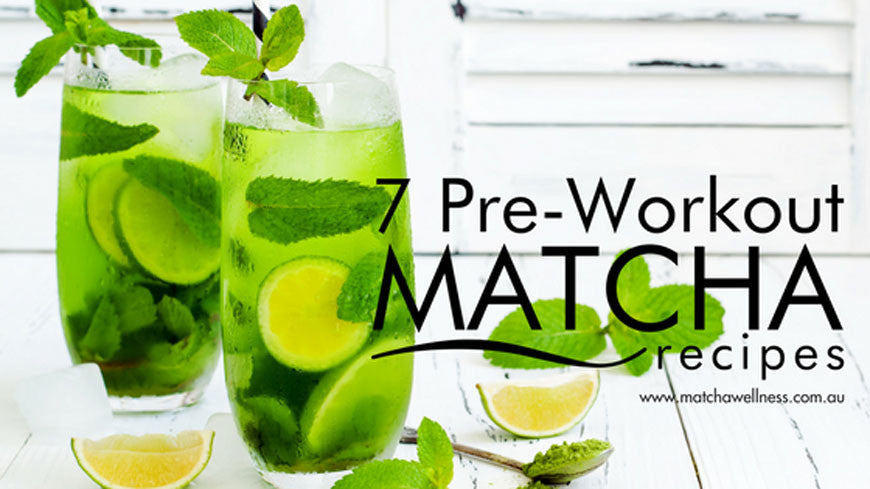 7 Pre-Workout Matcha
Traditional Matcha Blend
This excellent matcha blend is easy to follow with only little prep time. If you want matcha in its purest form, make sure to follow these simple steps. All it needs is just 60ml of hot water and around 1 teaspoon of matcha tea powder. When mixed together and blended into the right kind of froth. It provides the same boost as your trusted, go-to black coffee, but with much more benefits & without the caffeine crash.
Perfect for people who are always on the go, this solution ensures you get your dose of daily matcha in a quick & hassle-free way. Also, if you happen to try matcha for the first time, then you should definitely try this simple recipe first before jumping into other matcha concoctions.
Matcha Energy Drink
Tired of drinking store-bought, preservative-laden energy drink? Why not prepare your own energy drink using the combination of water, matcha, and stevia. In fact, you may even skip the sweetener if you like it stronger.
All you need to do to make it is to get a glass bottle or a BPA-free bottle, add around ¼ - ½ tsp. of the matcha powder for every 8-20 oz. of water. Shake it until everything is dissolved, and enjoy!
Try this drink and see for yourself how it will boost your energy while enhancing your mood to get you in workout mode.
Matcha-Infused Latte
A good pick for a fast and easy to make pre-workout drink is this iced ginger matcha latte. What makes this recipe extra special is the addition of ginger, also known for its countless health benefits, this matcha-infused cold beverage is the perfect way to beat the heat of summer while staying energized at the same time.
Frothy and fun to drink, it also includes ingredients such as mint and coconut milk to make a wonderful drink that is packed with all the nutrients needed to stay hydrate and energize your body. Relatively light and easy to keep down, this simple to prepare mixture should make it fun and easy for you to consume before your workout.
Matchanut Latte
If you've just recently transitioned from drinking coffee to matcha, then this coconut and matcha blend – Matchanut – is the perfect choice to go for when you need a gluten-free solution. All you need to make it is some hot water, a teaspoon of matcha, some warmed coconut milk and a little bit of sweetener if you so choose. The fine blend of coconut and matcha makes for a rich and engaging taste to begin with, so be cautious while adding your sweetener.
Another major factor of this latte, though, is that sweet froth. This is a delightful drink to get down before you start pumping some iron or running some serious miles.
Matcha & Banana Smoothie
With the rise in popularity of smoothies, people aim to consume food the easiest and healthiest way possible, which makes matcha a perfect ingredient for this type of beverage/food substitute.
Another wonderful and thick choice, matcha and banana shake is a great drink to take for pre-workout and give yourself a load of energy. It even works as the perfect breakfast shake. Just get a teaspoon of Matcha, a banana, a cup of milk and some ice cubes and throw it all together in a blender. Hit the blend button, let it froth up, and add in some ice cubes to make it nice and chilled.
Match-go Smoothie
Fun and engaging, this matcha and mango smoothie is the perfect choice for delivering a flavourful explosion that is hard to match.
A fine pick if you are looking for that classy and engaging taste, we highly recommend that you check out this match-go smoothie. With smart ingredients like mango chunks, soy milk, and low-fat plain yogurt, you are adding a nice ingredient blend that comes together well and makes an enjoyable drink to have. Quick to make and serves as the perfect pre-workout choice.
Choco Matcha Energy Balls
Our favourite choice, though, has to be these wonderful chocolate matcha energy balls. Visually appetising and packed with so many nutritional benefits, these balls are the perfect choice. Using smart ingredients such as raw almonds, cocoa powder, and matcha itself alongside almond milk, this is a wonderful blend of ingredients that, when used together, create a deeply enjoyable and unforgettable flavour.
A fine choice when you prefer something to nibble on rather than a shake. If you want solid over liquid, this is the place to start for sure. The creation is nice and simple, too – just follow the baking plan and you can have these ready in no time. They can be stored for up to two weeks when refrigerated, freeze them for longer shelf life, making sure that they can serve as a snack for more than one workout.